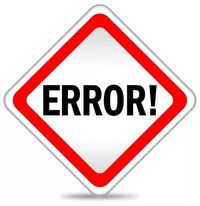 Я задала этот вопрос своему другу Дэвиду, вот что он ответил:
«Error» означает, что что-то вышло не так.
«Mistake» означает, что кто-то виноват в этом.
Есть еще такие слова как:
«Flaw» недостаток, изъян.
«Fault» вина человека.



The words error and mistake are very similar and in most case, either could be used.

There are a few differences though.

If a computer program doesn't work, it produces an error, not a mistake.